I adore feel-good romances, don't you? I also love a sale, and I'm sure you must, too!
CUP OF SUGAR is a 99¢ Amazon Kindle Countdown Deal this week.
✓ neighbors-to-lovers
✓ forced proximity
✓ snow, snow, and more snow
✓ cute dog
✓ swoon-worthy gestures
✓ family saga
If those things hit your sweet spot, CUP OF SUGAR is a must-read for you! Grab it now for 99¢ from Amazon.
"filled with Karla Doyle's trademark wit and hot, hot sex"
"a funny, sexy & quick read with wonderful characters, really hot sex scenes & crisp, fast-paced writing"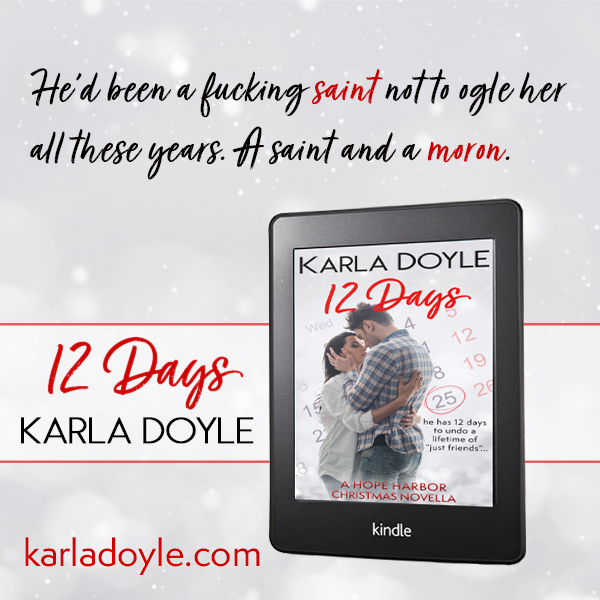 All he wants for Christmas is her.
Do you love happy, holiday romances? Then you're going to smile and giggle your way through 12 DAYS.
It has taken Kelly a lifetime of friendship to realize he's in love with his bestie, but he's determined to get out of the friend zone before Christmas…in 12 days.
Get it for 99¢ if you pre-order by November 16th.
Kelly Horne and Adeline Mission have been best friends since the third grade. Yes, he thinks she's pretty. And hot. Smart. Funny. But they're buds. Roommates. End of story.
Until he opens a package delivered to his house without checking the name on the label, and finds Addie has ordered a vibrating cock ring for some guy who doesn't deserve her, because no guy does.
There's a gift receipt in the box, meaning she intends to give the sex toy to somebody for Christmas…in 12 days.
12 days to undo a lifetime of "just friends". 12 days to change the name she writes on that gift tag. 12 days to win the girl he just realized has always been the one for him.
⇒ Releases November 17th ⇐
PS: There's still time to enter my Add-to-Goodreads draw for a $5 Amazon gift card. Simply add 12 DAYS to your Goodreads shelves by November 17th, and you're automatically entered in the draw.
Join my mailing list and never miss a word!