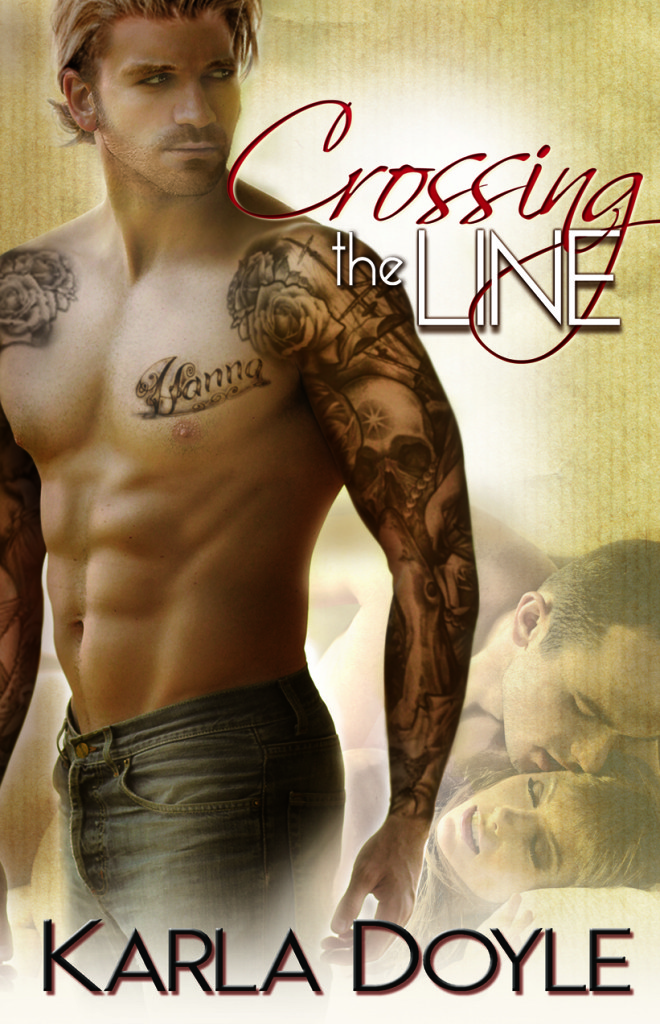 Lifelong best friends Derrick and Jeremy met Hanna at a bar ten years ago. Both wanted her—one married her. Now the other man has been invited to join in for one hot weekend.
Everything would've been fine if they'd had their fun that weekend, then gone back to normal. But they didn't. And when past demons resurface, things will never be the same—for any of them.
---
Dark Contemporary Erotic Romance ~ Married Couple, M/F/m Ménage ~ 50,618 words
ISBN: 9780992152703 ~ Karla Doyle, November 16, 2013
♥ Standalone novel, happily ever after, no cliffhanger
Author's Note ~ Crossing the Line is darker & edgier than my other books. 
---
Buy E-Book from:
Amazon UK • Amazon CA • Inktera • Bookworld
---
Buy Paperback from:
Amazon UK • Books-a-Million • Amazon CA • Powell's • Createspace • Bookworld       
---
Excerpt
Jeremy spotted Derrick's motorcycle the second he pulled into the parking lot. His buddy hadn't wasted any time getting here. Jeremy found a spot, then headed toward the front door.
"Hey, Jer, over here." Derrick's voice and extended arm stopped Jeremy before he reached the building. "Patio okay with you?" he asked as Jeremy cut around some empty tables.
He dropped into one of the dark-green, plastic chairs. "Sure, I'm easy."
"That's an understatement."
"True. Jealous?"
Derrick grinned. "Nope. Not in the slightest."
"Bullshit."
"No B.S." Derrick tipped a bottle of Coors Light to his lips and drained its contents. He pushed the empty aside and signaled the waitress for two more, then slid his cell phone across the table. "Not when I have this waiting for me every single day."
"Holy shit." Jeremy knew he should look away, that Derrick probably meant to show him a picture of Hanna in a dress or maybe a bikini, but he couldn't tear his eyes from the phone. Hanna looked up at him from the screen, a sex-kitten smile on her lips as she peeked over her shoulder. But it wasn't only her pretty face holding him captive. Hell no. Her ass was front and center, a tiny pink thong barely covering only the essentials as she posed doggy-style for the camera—and her husband. "She's gorgeous, but I think you pulled up the wrong picture." Mercifully, the phone disappeared into Derrick's palm. "Sorry for staring."
"S'okay. And you're right," Derrick double-checked the display before handing it over again, "I meant to show you this one."
"Christ, D, how many beers have you had?" His buddy had to be half-tanked to be showing him this—Hanna, on her knees, wearing nothing but those same pink panties, her red-painted fingertips covering little more than the nipples of her incredible rack. The shot put most centerfold pics to shame. Maybe because of the genuine emotion in her eyes and smile. Maybe because he knew her, how great she was in real life. Either way, fuck.
"Just that one Coors. Totally sober over here." Derrick's reply yanked Jeremy's attention from the photo he should not be looking at.
Silently finding your best buddy's wife hot was one thing, ogling naked pictures of her—courtesy of her husband—that was goddamn surreal.
Jeremy turned the phone facedown as their server arrived with two bottles of beer. "I got this." He pulled his wallet from his jeans and paid the waitress, then pushed the phone toward its rightful owner. Alcohol wasn't really his thing, but he took a long pull anyway, buying time.
Derrick matched the pace with his beer, his eyes never leaving Jeremy's face. Gauging him? Something was going on. Hell if Jeremy knew what it was, though.
Derrick drank and waited. Even grinned a little. But say something that'd explain what'd just happened—no. Only, "You look sort of freaked-out."
"You showed me naked pictures of your wife, man."
"And what'd you think?"
"I think you're lucky I'm not going to tell Hanna about your moment of temporary insanity, or she'd have your nuts on the chopping block." He pushed his half-full bottle to the middle of the table and leaned back in his chair. "Want to tell me what the fuck is going on with you? Everything okay on the home front?"
"Yeah, nothing new or bad to report." Derek polished off the rest of his beer. Instead of motioning for the waitress, he twirled the empty bottle on the table. "But there is something I want to talk to you about."
"Sure."
"I want to give Hanna something. Something I know she's wanted for a long time."
"Yeah? Good for you guys." He reached over and issued a congratulatory punch to the shoulder. "You're going to love it, you know. Nothing better in the world."
Derrick's eyes narrowed. He even waved off the waitress.
"You weren't talking about giving your wife a baby."
"No."
Well, shit. "Sorry, man."
"Don't be. I know you love the being-a-dad thing and Luke is a great kid. I like being his honorary uncle, but I can't do more than that. You know where I came from, how I'd wind up treating a kid of my own."
No point in rehashing that argument again. Jeremy had tried repeatedly, but no amount of talking had convinced Derrick he could break the Sutter family mold. Too bad. Derrick would make a great dad, whether he believed it or not.
Jeremy settled against the patio chair, using its hard plastic ribs to scratch a spot in the middle of his back. "So what's the thing—diamonds, a trip to Europe, a puppy?"
"A threesome."
If he'd had anything in his mouth, it'd be two tables over now. "Fuck off. Seriously?"
"Seriously." Derrick's index finger tapped the back of his phone where it rested on the table. Tap, tap, tap. Tap, tap, tap.
The pictures. Derrick wanting to talk to him about something. No fucking way. "Holy shit. You're asking me, aren't you?"
---
Chapter One — Read the full first chapter online!
---
Reviews from Readers:
Author Cara Bristol said: Karla Doyle lures the reader down a path that is both erotic and disastrous, where one is titillated and fearful as tragedy unrolls in slow motion. As with her other books, Ms. Doyle writes with a witty, punchy style and cranks up the heat to scalding. A five star read!
Claire said: 5 F@@K ME THAT WAS HOT STARS!!! What made this 5 Stars for me is the fact that Karla gave me a great story, with well established characters, they encountered real problems and dealing with the consequences of their actions, after the weekend the three of them spent together was quite the rollercoaster I can tell you.
Jessica said: This was a perfectly satisfying read that had me heartbroken in places, swooning in places, and incredibly turned on in places. A well-rounded treat for myself!
Kim said: Hot 5 star read!!! Yes there was angst but we also got resolution in the end!!! Enjoyed this one!
Emily said: Another winner from Karla Doyle. I can't wait until the next one!
Tina said: …well written, the story line was intriguing and the steam was off the charts. I'm not a fan of the ménage story lines but the synopsis got me, I needed to know what was going to happen. I'm glad I took the chance to read this it was a good read.
Reviews by Bloggers
Straight Shootin' Book Reviews said:  You will go through plenty emotions in this one, I know I did. Question is- is it good? Heck yeah it is. It's well written, super sexy, and takes you on a roller coaster ride emotionally. What more can I ask for?
The Romance Reviews said: This steady-paced plot takes the reader on an emotional journey that is brought to life with vivid images and details, and strong compelling characters. The intense emotions bring tears to the reader's eyes when everything goes wrong and brings smiles to their faces when everything goes right.
---
Crossing the Line Playlist