November 25th marks my birthday, and exactly one month until Christmas. To celebrate, I've put GIFT WRAPPED on sale for just 99¢. I absolutely adore this sexy & sweet, Christmas love story, and I know you will too! 
99¢ Sale!
After catching her boyfriend cheating two weeks before Christmas, Brinn is seriously lacking in holiday spirit. So when she looks into the eyes of a last-minute shopper after closing on Christmas Eve, she's sarcastic rather than sympathetic. But Brinn is ever the good girl and her conscience wins out. She offers the handsome stranger ten minutes to select a gift and ends up with a present of her own—a date. On Christmas Eve.
Davis hates Christmas. Especially this year, since a neighborhood heist liberated him of his hard-earned belongings and the few gifts he'd purchased. But the robbery led him to a cute store manager with a sense of humor, smokin' body and no plans for the evening. Mistletoe might be in order after all.
Their Christmas Eve date is like gift-wrapped, sexy satisfaction. But the best gifts keep on giving, and one naughty night may not be enough—for either of them.
What readers are saying about GIFT WRAPPED:
"My favorite book by Karla (I might even go as far as to say, one of my favorite books EVER)! It hit every mark for me. The characters were so sweet, with just the right amount of spice. I didn't want it to end." ~ Lisa, Goodreads
"Gift Wrapped was absolutely perfect! This book is probably one of the best holiday romances I've read! This is one that will definitely become a reread and will be staying on my kindle!" ~ Nikki, Goodreads
"If you are like me and love Christmas stories, especially a story who has everything, you certainly don't want to miss this one. Gift Wrapped was such a sweet, sexy and funny story. It was everything I hoped and wanted to be!" ~ Arianna, Goodreads
"OMG! I need a shower. A very cold shower. Shoot me! I'm jealous of a fictitious character. You would be too if you read "Gift Wrapped." The sex is off-the-chart, panty-melting, sizzling hot!" ~ Pamela, Amazon
Have you read Gift Wrapped? Did you enjoy it? I would love to hear from you! ♥
And, I have great news for Kindle Unlimited readers.
Six of my books are now available to read FREE in KU!
Click the titles to go to Amazon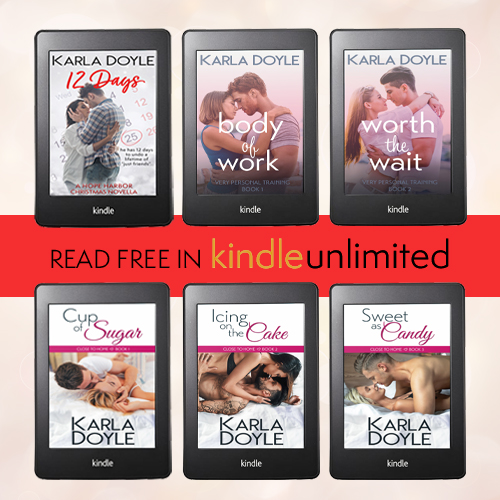 I'm so excited to bring my books to more readers. Do you read in Kindle Unlimited? Are there any other of my books you would like to see enter the program? 
Have you connected with me online yet? If not, please do! I truly love chatting with readers.
Click to connect with me!
That's all for now. I'll talk to you soon. Until then, happy reading!