Sunday Snippet – CUP OF SUGAR – Authority
It's Sunday snippet time, part of the Weekend Writing Warriors meme.
This is the last Sunday I'll be sharing from CUP OF SUGAR. Next week I'll be teasing you with snippets from Book 2 of series, so I hope you'll stay tuned.
If you've enjoyed the CUP OF SUGAR excerpts, now's a great time to pick it up, because it's on sale for 99¢ for a limited time.
So, for the final snippet from this neighbors-to-lovers story, let's go with something fun and a little bit dirty. 😉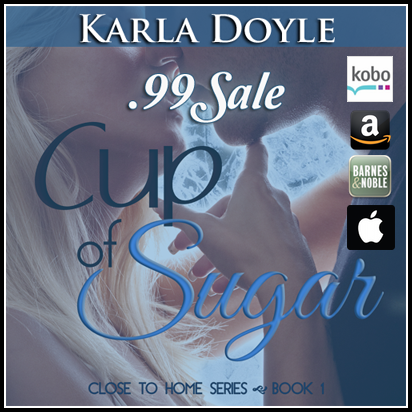 "Let me do this," the tip of her tongue swirled around his cock, "I want you to come in my mouth."
He groaned. As if he could refuse that offer.
Her lips closed around him, took half his length, then slid back up, releasing him. "Can I tell you something?"
"Sweetheart, you're sucking my cock. You just told me to come in your mouth. That pretty much gives you authority to say anything."
CUP OF SUGAR 99¢ Sale
Amazon • B&N • Kobo • iTunes • All Romance • more
CUP OF SUGAR, Book 1 of the Close to Home series
Nia has one rule—don't date neighbors. Simple, except the guy next door is single, handsome, and not inclined to close his blinds while naked. When her car dies, Conn takes "being neighborly" to a new level by offering a ride to her long-distance destination. Nia has resisted his looks and charm for months. Surely she can handle a few hours in his truck…
For months, Conn has blatantly put himself on display, hoping his pretty blonde neighbor would tire of secretly watching and come knock on his door for a cup of sugar—or more. No such luck—until an unusual opportunity arises. After a six-hour drive turns into a sweet-and-sexy weekend, Conn wants more than neighborly status with Nia. To get it, he must convince her to break the rule protecting her heart—by putting his on the line.
ICING ON THE CAKE, Book 2 of the Close to Home series
Nia and Conn's wedding will be fairytale perfect…if their siblings can get along.
Free-spirited, anti-establishment Sara has always been on the outside of her family's fairytale mold. Now she's being forced smack into the middle of it at her sister Nia's wedding. Alongside the cocky and annoyingly sexy best man—Conn's cop brother.
Curtis doesn't buy in to organized romance and fairytales. But for his brother, he'll throw on a tux and fake it for a few hours. His flak vest would have been a better choice around the maid of honor. He should have brought his handcuffs too, because somebody needs to restrain the dark-haired spitfire—and he's just the man for the job.
One night to indulge the spark between them, then goodbye—that was the agreement. Curtis isn't looking for a relationship and he sure doesn't want a troublemaker for a girlfriend. The last thing Sara needs in her daily life is a cop looking over her shoulder, no matter how hot he is.
But giving in to their chemistry is much more fun than giving it up…