Sunday Snippet – CUP OF SUGAR – It Could Get Awkward If…
Welcome back to another eight sentences from CUP OF SUGAR, brought to you as part of the Weekend Writing Warriors meme. I don't think this snippet needs much introduction.  😉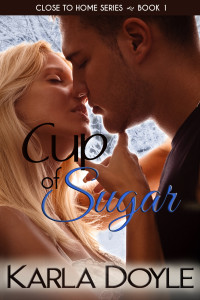 "You want me to stop?" He punctuated the question by circling her belly button with the tip of his tongue.
She shook her head, prompting Conn to slide her pants lower. Not all the way down, the silky bottoms still covered the most important part, though the fabric did nothing to mask the heat from his mouth when he pressed it against her core.
"Conn, we shouldn't…it'll be awkward seeing each other every day if the sex sucks."
His chuckle vibrated between her legs. His eyes twinkled up at her, and when he lifted his head, his smile was down-and-dirty hot. "It won't suck, Nia."
Blurb
Nia has one rule—don't date neighbors. Simple, except the guy next door is single, handsome, and not inclined to close his blinds while naked. When her car dies, Conn takes "being neighborly" to a new level by offering a ride to her long-distance destination. Nia has resisted his looks and charm for months. Surely she can handle a few hours in his truck…
For months, Conn has blatantly put himself on display, hoping his pretty blonde neighbor would tire of secretly watching and come knock on his door for a cup of sugar—or more. No such luck—until an unusual opportunity arises. After a six-hour drive turns into a sweet-and-sexy weekend, Conn wants more than neighborly status with Nia. To get it, he must convince her to break the rule protecting her heart—by putting his on the line.