Sunday Snippet – CUP OF SUGAR – Can't Look Away
For a list of writers participating in the Sunday Snippet meme, check out the Weekend Writing Warriors website.
Today we're in Conn's head, as he and Nia are sharing the only motel room available during a horrible snow storm that forced them off the road late on New Year's Eve. Conn is watching TV when Nia steps out of the motel bathroom in her pajamas…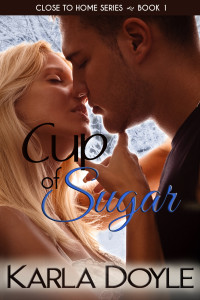 Her pale-pink pants weren't see-through, but they might as well have been, because it was plenty evident she didn't have anything underneath. With each step she took, the little tank top shifted, rising to tease him with a hint of creamy skin. Those pants rode damn low on her hips. Hips he needed to run his hands over while she rode him.
"Oh, look…" she pointed at the TV while crawling onto the bed, "Robin Thicke is performing."
Conn didn't want to look. He didn't care who was performing. Hell, they could dedicate the next song to him, live from New York City, and he still wouldn't give a shit.
---
Want more?
CUP OF SUGAR is available now for just $2.99
Amazon • All Romance • Kobo • iTunes • B&N • More