Sunday Snippet – CUP OF SUGAR – Get To Know You
Sunday Snippet time, where I post an eight-sentence excerpt from one of my books. Just a little bite to entice you to buy it and read the whole thing, I admit it. 😉  Visit the Weekend Writing Warriors website for a list of authors participating in this meme.
This week we're with Nia, the heroine of CUP OF SUGAR, as she settles into the passenger seat of her handsome neighbor's truck. Nia has spent the past eight months doing her best to keep her distance from the tempting hunk next door. Conn came to her rescue when her car broke down in the driveway by offering a ride to her long-distance destination. Now they're about to spend at least six hours together in close quarters. Nia is having second thoughts about accepting his generous offer of transportation…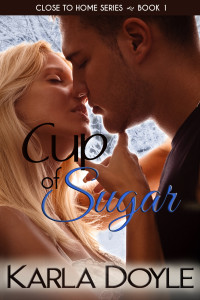 "How about I say goodnight, go in my house and we just go back to the way things were?"
Conn found the end of her seatbelt and clicked it into place. "Going back never works out."
"I wouldn't know, I'm more of a 'run far, far away' person."
"Look at that—not even out of the driveway and I'm already getting to know you." He tapped the GPS console again, then put the truck in reverse. "And now I'll tell you something about me. I only do things I want to do, sweetheart."
---
Blurb
Nia has one rule—don't date neighbors. Simple, except the guy next door is single, handsome, and not inclined to close his blinds while naked. When her car dies, Conn takes "being neighborly" to a new level by offering a ride to her long-distance destination. Nia has resisted his looks and charm for months. Surely she can handle a few hours in his truck…
For months, Conn has blatantly put himself on display, hoping his pretty blonde neighbor would tire of secretly watching and come knock on his door for a cup of sugar—or more. No such luck—until an unusual opportunity arises. After a six-hour drive turns into a sweet-and-sexy weekend, Conn wants more than neighborly status with Nia. To get it, he must convince her to break the rule protecting her heart—by putting his on the line.
Get it now for just $2.99
Amazon ◊ All Romance ◊ Kobo ◊ B&N ◊ iTunes ◊ More!