Sunday Snippet – CUP OF SUGAR – Just a Kiss
Thanks for joining me and the rest of the Weekend Writing Warriors as we offer up eight-sentence excerpts from our work.
We're spending time with Conn and Nia, neighbors who are getting a whole lot closer on New Year's Eve. When Nia's car died, Conn stepped up and offered to drive Nia to her long-distance destination—in a snow storm. Weather forced them to take refuge in a small motel that only had one room remaining. Oh, fate.  😉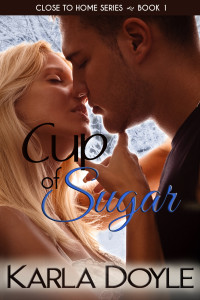 This time, he didn't hesitate. Just sealed his mouth against hers and took control.
She opened for him. Welcomed his tongue inside, greeting it with hers. A New Year's Eve kiss, that's as far as she'd let this go. Her brain failed to get that message to her hands, though, because they were in the process of pulling off Conn's t-shirt.
"You're so hard," she said, running her palms over his chest.
"Sweetheart, you have no idea."
---
Available Now for $2.99
Amazon • Kobo • iTunes • B&N • All Romance • More
Blurb
Nia has one rule—don't date neighbors. Simple, except the guy next door is single, handsome, and not inclined to close his blinds while naked. When her car dies, Conn takes "being neighborly" to a new level by offering a ride to her long-distance destination. Nia has resisted his looks and charm for months. Surely she can handle a few hours in his truck…
For months, Conn has blatantly put himself on display, hoping his pretty blonde neighbor would tire of secretly watching and come knock on his door for a cup of sugar—or more. No such luck—until an unusual opportunity arises. After a six-hour drive turns into a sweet-and-sexy weekend, Conn wants more than neighborly status with Nia. To get it, he must convince her to break the rule protecting her heart—by putting his on the line.