Sunday Snippet – Game Plan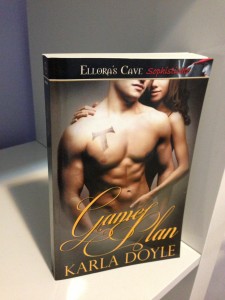 Since tomorrow is Canada Day, I'm pulling eight sentences from GAME PLAN. There's an integral scene in Game Plan that occurs on Canada Day, as the hero takes the heroine to meet his friends and family for the first time, at his family's annual barbecue bash. Andie's nervous, so to distract her as they're making their entrance, Mason has this to say to her…
---
"All right, here's one thing I've been thinking about all week — you, naked on your stomach, hands stretched above your head while I do a dot-to-dot using your freckles and my tongue. I'm gonna start with the one under your left ear."
"Where's the last dot?"
The squeaky gate drew attention. At least half a dozen pairs of eyes zoned in on their next move. He smiled at their audience, lowered his head to whisper in her ear, "Are you aware of the little mole you have down low in the crack of your ass?"
She turned her head to face him, wide-eyed. Yeah, she knew exactly where he planned to put his tongue.
---
For more bite-sized excerpts, check out all the participating writers at Weekend Writing Warriors.
And for more info on GAME PLAN, click here.
Have a great Sunday, and to all my fellow Canucks, Happy Canada Day on Monday!