Click here for a printable book list!
Please purchase books from legitimate retailers.
Torrent / file-sharing sites are illegal and not endorsed by the author.
Thank you, and happy reading!
---
STEALING HOME
When Paige's latest attempt at happily-ever-after with a nice guy tanks, she decides to quit fighting her destiny. She craves bad boys. Men who deliver short-term, panty-melting excitement, not reliability and settling down. If she's going to embrace her true nature, who better to start with than the dark-haired, tattooed ballplayer whose cocky attitude gives her more thrills than any steady boyfriend ever has…
Alex had major league plans for his life until it threw him an unexpected and unwelcome curve ball. Switching gears to pursue his other passion was a rough road, but things are good—aside from his MIA muse. When a chance meeting with a blonde firecracker stirs his creative juices—and more—Alex is game to see where their chemistry leads. Trouble is, his potential Miss Right thinks she's only capable of playing the field.
Buy Now ♥ Excerpt ♥ Reviews ♥ Goodreads ♥ Chapter One
---
GIFT WRAPPED
After catching her boyfriend cheating the week before Christmas, Brinn is seriously lacking in holiday spirit. So when she looks into the eyes of a last-minute shopper after closing on Christmas Eve, she's sarcastic rather than sympathetic. But Brinn is ever the good girl and her conscience wins out. She offers the handsome stranger ten minutes to select a gift and ends up with a present of her own—a date. On Christmas Eve.
Davis hates Christmas. Especially this year, since a neighborhood heist liberated him of his hard-earned belongings and the few gifts he'd purchased. But the robbery led him to a cute store manager with a sense of humor, smokin' body and no plans for the evening. Mistletoe might be in order after all.
Their Christmas Eve date is like gift-wrapped, sexy satisfaction. But the best gifts keep on giving, and one naughty night may not be enough—for either of them.
Buy Now ♥ Excerpt ♥ Reviews ♥ Goodreads ♥ Chapter One
---
ICING ON THE CAKE
Close to Home series ∼ Book 2
Nia and Conn's wedding will be fairytale perfect…if their siblings can get along.
Free-spirited, anti-establishment Sara has always been on the outside of her family's fairytale mold. Now she's being forced smack into the middle of it at her sister Nia's wedding. Alongside the cocky and annoyingly sexy best man—Conn's cop brother.
Curtis doesn't buy in to organized romance and fairytales. But for his brother, he'll throw on a tux and fake it for a few hours. His flak vest would have been a better choice around the maid of honor. He should have brought his handcuffs too, because somebody needs to restrain the dark-haired spitfire—and he's just the man for the job.
One night to indulge the spark between them, then goodbye—that was the agreement. Curtis isn't looking for a relationship and he sure doesn't want a troublemaker for a girlfriend. The last thing Sara needs in her daily life is a cop looking over her shoulder, no matter how hot he is.
But giving in to their chemistry is much more fun than giving it up…
Buy Now ♥ Excerpt ♥ Reviews ♥ Goodreads ♥ Chapter One
---
CUP OF SUGAR
Close to Home series ∼ Book 1
Nia has one rule—don't date neighbors. Simple, except the guy next door is single, handsome, and not inclined to close his blinds while naked. When her car dies, Conn takes "being neighborly" to a new level by offering a ride to her long-distance destination. Nia has resisted his looks and charm for months. Surely she can handle a few hours in his truck…
For months, Conn has blatantly put himself on display, hoping his pretty blonde neighbor would tire of secretly watching and come knock on his door for a cup of sugar—or more. No such luck—until an unusual opportunity arises. After a six-hour drive turns into a sweet-and-sexy weekend, Conn wants more than neighborly status with Nia. To get it, he must convince her to break the rule protecting her heart—by putting his on the line.
Buy Now  ♥  Excerpt  ♥  Reviews  ♥  Goodreads  ♥  Chapter One
---
CROSSING THE LINE
Lifelong best friends Derrick and Jeremy met Hanna at a bar ten years ago. Both wanted her—one married her. Now the other man has been invited to join in for one hot weekend.
Everything would've been fine if they'd had their fun that weekend, then gone back to normal. But they didn't. And when past demons resurface, things will never be the same—for any of them.
Buy Now  ♥  Excerpt  ♥  Reviews  ♥  Goodreads  ♥  Chapter One
---
BODY OF WORK
Very Personal Training series ~ Book 1
Cassie has fantasized about the ginger-haired personal trainer for months. Brian is friendly, but never more—until he appears on her doorstep and shows her how much her flirting has affected him. The more she's with him, the more Cassie wants the fairytale, not just hot sex with the 6'2″ hunk. She can give Brian full access to her body, but after her ex's reaction to her explicit photography business, sharing her secrets, and her heart, isn't an option.
Brian knows better than to break the rules. Don't date gym members. Keep his inner beast on a leash during sex. Cassie tested his resolve on number one her first day in the gym. Shattered the second rule when he touched her. The petite pixie shares his preferences in the bedroom. She makes him laugh and love—but past mistakes haunt him, emotionally and tangibly. Cassie's worth the price he'll pay for breaking the rules. Now he must convince her to give him her heart.
Buy Now  ♥  Excerpt  ♥  Reviews  ♥  Goodreads  ♥  Chapter One
---
MORE THAN WORDS
A brutal mugging two years ago left Calli terrified to go out after dark, and incapable of real dating. Hanging out with a resentful Chihuahua every night hasn't filled the void, and all the sex toys from the store she owns could never replace a flesh-and-blood man. An online Scrabble site promising anonymous, flirty fun sounds like just the ticket. A like-minded geek, that's what she needs. Unbeknownst to her, the man on the other end of the game is anything but geeky.
Tired of the party scene, Travis seeks a venue where he can meet a woman who is drawn to his mind, not his profession. Having women chase after his bad-boy musician persona has grown stale. After heating up the tiles online with Calli, he knows he must meet her in person. Touch her in person. And when he does, their chemistry is undeniable. She stimulates him, body and mind. But when he discovers her tragic past he realizes it will take more than words to win her heart…and her trust.
Buy Now  ♥  Excerpt  ♥  Reviews  ♥  Goodreads  ♥  Chapter One
---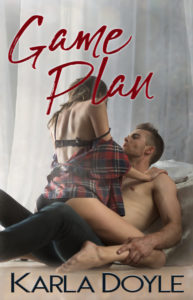 GAME PLAN
Recently divorced after seventeen years with a snooty, uptight, controlling man, forty-year-old Andie is definitely ready for some casual, sexy fun when a hot younger man "accidentally" hits her with a baseball. Mason's interest is clear and he looks like a lot more fun than her overworked vibrator collection, so she goes for it, despite the obvious age gap. The young veterinarian is as easy to be with as he is on the eyes, making him an ideal summer diversion and the perfect man to help her make up for lost time and missed orgasms.
Mason had to meet the sexy woman at the ball diamond. The chemistry between them is instant and completely addictive. Andie is more than beautiful, she's uninhibited and independent—totally unlike the needy twenty-somethings he's been dating since his ex-fiancée deceived him five years ago. And yeah, Andie is ten years older than him, big deal. The more they're together, the more his heart wants her as badly as his cock. Too bad Andie isn't playing for keeps.
Buy Now  ♥  Excerpt  ♥  Reviews  ♥  Goodreads  ♥  Chapter One
---
Stay up to date on new releases by subscribing to my newsletter: