Sunday Snippet–Want vs. Need
Today's Sunday Snippet is from BODY OF WORK (because, hey, it got a 4.5 star "Top Pick" review this week! woohoo!) and comes to you as part of the Weekend Writing Warriors meme.
The last time I posted from this book, Brian and Cassie were at his parents' house for dinner, and Cassie had sampled a wee bit too much of Angus' whisky. Something pretty big happened after that — but I'm not sharing that part, it's too important to the book. This little excerpt comes from the early hours of the morning after, at Cassie's house.
---
She turned on the pillow to face him. Tried to look through him, rather than at him. Even in the dim lighting, she could see the warmth in his eyes and smile — the love.
"I'd like to be alone…I'm a mess."
"I'll take care of you."
"I don't need you to take care of me." The need part of that statement was true. What she wanted was another story, and no longer mattered.
---
Intrigued, maybe a little? I can fix that…here are some links to buy the book! 😉
Amazon  ♥  B&N  ♥  Kobo  ♥  More Retailers
And here's a link to that awesome "Top Pick" review that still has me smiling.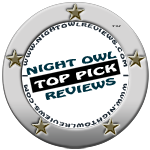 Thanks for stopping by — your visits make my day. 🙂