Sunday Snippet – GIFT WRAPPED – Santa Has All the Luck
Welcome, Weekend Writing Warriors. Are you ready for some more holiday fun from GIFT WRAPPED? This week's snippet picks up shortly after last week's, when retail manager Brinn allowed a customer into her store after closing on Christmas Eve to find "one more gift…it's kind of an emergency". Now she's alone in the store with her handsome last-minute shopper, and sparks are flying…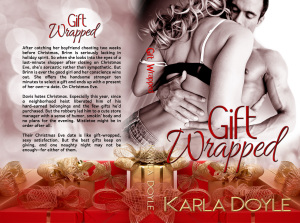 "Better start shopping, you're running down the clock." For show, she tapped her watch. "Santa's on his way—I need to get home to my bed so he'll sneak in and fill my stocking."
Her private shopper laughed and winked. "Santa has all the luck."
Oh dear god, was everything out of her mouth going to sound dirty? And holy, could he get any sexier than right now, smiling at her like a tomcat that'd caught a mouse? She'd have to make a stop at the superstore before it closed and buy a pack of triple-As for her battery-operated boyfriend.
---
Amazon • All Romance • iTunes • B&N • Kobo • more
Blurb
After catching her boyfriend cheating the week before Christmas, Brinn is seriously lacking in holiday spirit. So when she looks into the eyes of a last-minute shopper after closing on Christmas Eve, she's sarcastic rather than sympathetic. But Brinn is ever the good girl and her conscience wins out. She offers the handsome stranger ten minutes to select a gift and ends up with a present of her own—a date. On Christmas Eve.
Davis hates Christmas. Especially this year, since a neighborhood heist liberated him of his hard-earned belongings and the few gifts he'd purchased. But the robbery led him to a cute store manager with a sense of humor, smokin' body and no plans for the evening. Mistletoe might be in order after all.
Their Christmas Eve date is like gift-wrapped, sexy satisfaction. But the best gifts keep on giving, and one naughty night may not be enough—for either of them.