TASTE ME is Available Now—FREE!
TASTE ME is now available everywhere, and it's FREE!
122,000-WORDS OF DARK ROMANCE AND DANGEROUS ENCOUNTERS!
TASTE ME is a collection of twenty-seven sexy scenes from the hottest releases of 2015, both newly released and coming soon. This all-star lineup of bestselling authors includes…
Tijan, Alessandra Torre, Lauren Blakely, Skye Warren, CD Reiss, Anna Zaires & Dima Zales, Red Phoenix, Cherise Sinclair, Kendall Ryan, Chelle Bliss, TK Leigh, Toni Aleo, Sam Crescent, Jenika Snow, Julia Sykes, Nina Levine, Cari Quinn & Taryn Elliott, Ainsley Booth, Katy Regnery, Shari Slade & Amber Lin, Shoshanna Evers, Pam Godwin, Carolyn Crane, Molly Joseph, Ella Sheridan, Karla Doyle, and Brooke Cumberland
Get your FREE copy for a limited time from…
Amazon • B&N • iBooks • All Romance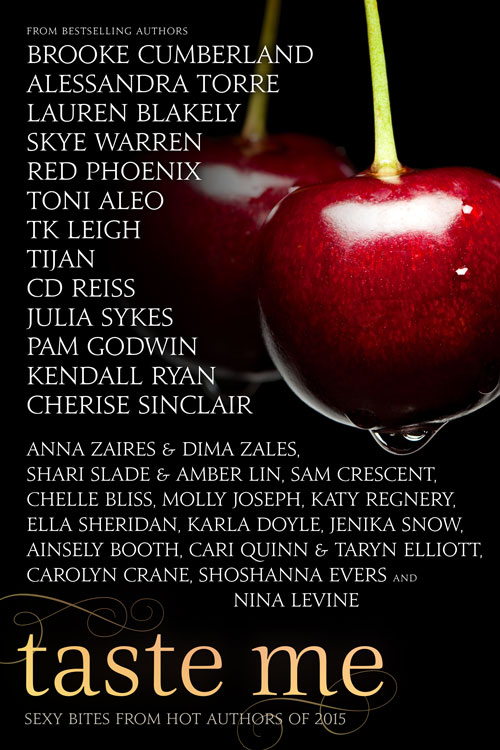 Download TASTE ME now for a sneak peek of Hold Me, the highly anticipated third book in the dark romance Twist Me series from Anna Zaires. Push your boundaries with a twisty scene from Tight by Alessandre Torre, one of the blockbuster books of the year. Sink your teeth into an alpha rocker bad boy in the not-yet-released Second Chance with a Rock Star from Shari Slade and Amber Lin.
And read a super-sexy scene from my upcoming release, STEALING HOME…