Sunday Snippet – CUP OF SUGAR – Good News is Bad News
Sunday Snippet time, part of the Weekend Writing Warriors meme.
This week's bite-sized excerpt is from my newest release, CUP OF SUGAR. Nia has spent the eight months since she bought her house mostly avoiding her temptingly hot neighbor… until her car dies and she accepts Conn's offer of transportation to her long-distance destination. A horrible storm finds them lost on snow-covered backroads, low on gas, and thanking their lucky stars when a tiny roadside motel appears on the side of the road. Here's what happens when Conn comes out from the motel office…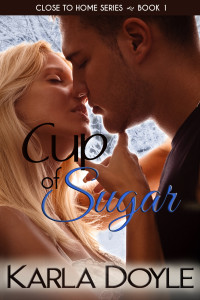 "The good news is, we chanced upon the only motel in a hundred-kilometer radius before we ran out of gas or landed in a ditch — and it had a vacancy."
"A vacancy?"
"Yeah, one room left." As if cued, the red "Vacancy" sign in the office window flickered to black. He held up a plastic fob with a single key dangling from its ring. "And it's all ours."
She forced a smile while donning her coat. Sharing a motel room with Conn was definitely not good news.
---
"lots of witty banter, one-liners and well-written sexy times"
Available for just $2.99 from
Amazon • Kobo • B&N • iTunes • All Romance • More
Blurb
Nia has one rule—don't date neighbors. Simple, except the guy next door is single, handsome, and not inclined to close his blinds while naked. When her car dies, Conn takes "being neighborly" to a new level by offering a ride to her long-distance destination. Nia has resisted his looks and charm for months. Surely she can handle a few hours in his truck…
For months, Conn has blatantly put himself on display, hoping his pretty blonde neighbor would tire of secretly watching and come knock on his door for a cup of sugar—or more. No such luck—until an unusual opportunity arises. After a six-hour drive turns into a sweet-and-sexy weekend, Conn wants more than neighborly status with Nia. To get it, he must convince her to break the rule protecting her heart—by putting his on the line.